Hello friends!
We've been so pleased to announce that Nerdsmith is an official affiliate of Hero Forge, your one-stop shop for digital and 3D printed tabletop miniatures! We've been furiously learning all the ins and outs of the site and its Pro features, making literally hundreds of characters for our private and livestreamed D&D sessions. Stay tuned on our social media for previews of some of our favorite creatures and creations!
Angela's been working hardest to learn and explore the features available with her Hero Forge Pro subscription, and she's shared a few of her favorite things below:
——————————————————————
I can't say enough about how much I'm enjoying my Hero Forge Pro Subscription. I originally signed up in order to create digital tokens of my characters with transparent backgrounds. As a very visual storyteller and gamemaster, I find being able to create almost exactly what's in my head, and sometimes better, dramatically enhances my and my players' experience during campaigns. I am constantly creating tokens for battle maps and portraits for our character sheets. I am using Hero Forge exclusively as a character designer for at least 5 different projects at the moment, and being able to sort with folders has been a godsend. The mobile app has also been shockingly mobile friendly, and I find myself making heroes on my phone as a way to pass the time in line or at the doctor's office.

New Content Every Tuesday!
I'm so impressed that there's almost always new assets being brought in as well! I chomp at the bit every week that new content is released and I end up spending a ton of time excitedly updating existing figures or making new ones with whatever Hero Forge puts out next. Their focus on digital offerings in the last year or so has been really obvious and welcome, as someone who plays and runs games almost exclusively online.
Face Details and Battle Scars! 
Decals has really changed the game, as far as I'm concerned, and have exponentially expanded the variety and personality that I'm able to create with characters in Hero Forge. My work has been getting more and more complex yet also faster as I've been creating custom paints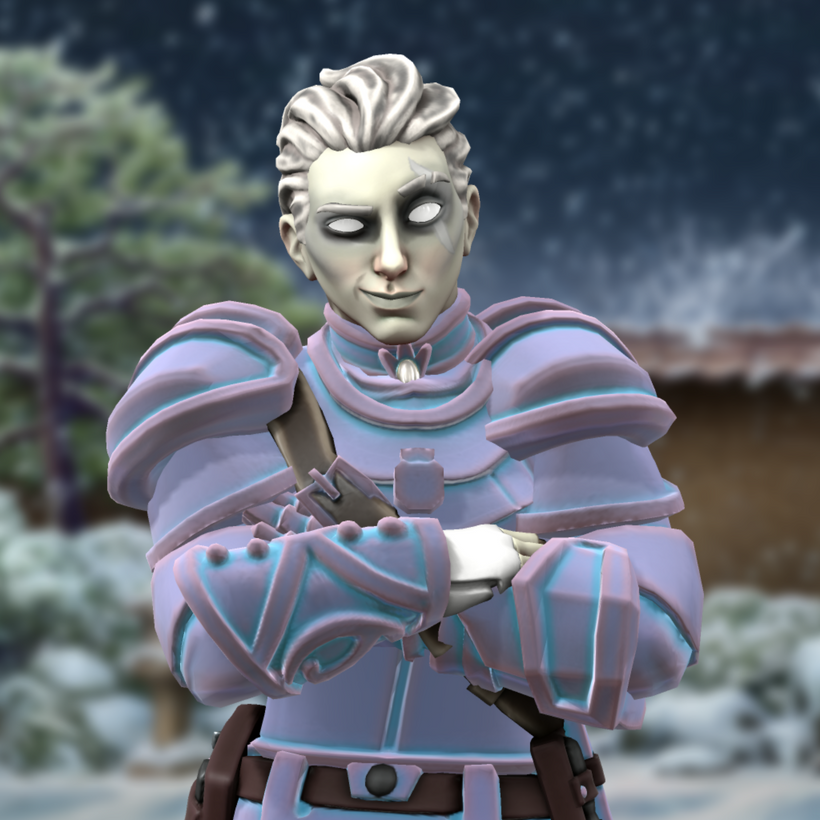 Pictured: Vylaine, NPC from Shenanigoons, our live D&D campaign every Tuesday at 7pm PST | 10pm EST on Twitch!
Scenes
And the SCENES feature, my god, I'm so excited about it! I use photoshop for the vast majority of my graphic design work, and Hero Forge figures as well, but now being able to set up some scenes natively in the app is amazing! I hope more (and possibly custom?) backgrounds are on the horizon!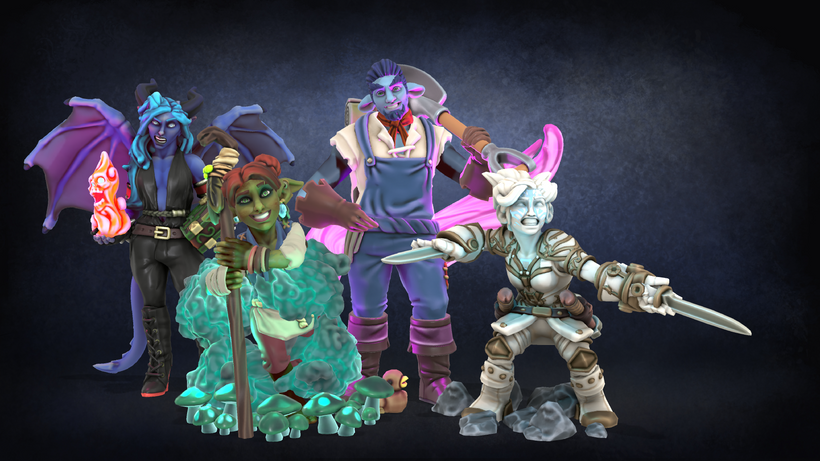 The Heroes of Shenanigoons, our live D&D campaign every Tuesday at 7pm PST | 10pm EST on Twitch!
The Hero Forge Community
I've also recently become familiar with the larger Hero Forge community and I have been so inspired by people's brilliant custom posing and creative use of the platform to go beyond what I imagine the team thought possible. The Pro feature to import aspects of other figures has been invaluable with my recent foray into learning how to get the most out of Hero Forge, and now I feel incredibly connected to my fellow Hero Forge creators as they share their ideas for how to make the most exciting and beautiful hero designs. 

Overall, I am extremely happy with my Pro subscription. It has been ten times as valuable as I had expected! And I can't wait to show you all the kickass things I've made with Hero Forge!
Lots of Love,
Angela <3